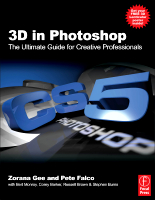 Good morning to you,
I have just received the new book from Zorana Gee and Pete Falco – "3D in Photoshop". I am going to get deep inside the book and you can expect a review of the book from me very soon.
It looks to be a fantastic book and 3D in Photoshop is an amazing feature (in Photoshop CS5 Extended). There are a few contributors to the book, f.ex. Bert Monroy – I mentioned Bert a number of times in PhotoshopLightroomTV and in the blog here as well.
Just to give you a quick overview of the book, there is a chapter on Scene (Ch.1), Rendering (CH.2) – the first two chapters deal with Introducing to 3D concepts, and then it moves into 3D in Photoshop!
I will share with you more details quite soon so please stick with me. For now, you can watch a tutorial where I share some information about 3D perspective. Here is the link to the tutorial:
3D Depth-of-Field in Adobe Photoshop.
Have fun! 🙂